Event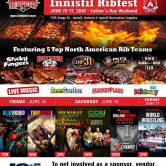 2nd Annual Innisfil Rib Fest 2018
Location:

Innisfil, Ontario

Venue:

Innisfil Rib Fest 2018

Length:

10:00 pm – 11:00 pm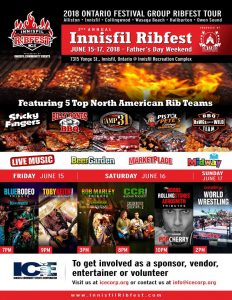 Innisfil Community Events Corporation Presents the 2nd Annual Innisfil Ribfest Sponsored by 400 Chrysler and takes place on June 15-17, 2018 Father's Day Weekend at the Innisfil Recreation Complex.
Joining the 2018 Ontario Ribfest Tour is 5 of North America's Best Rib Teams that are gearing up to serve you Award-Winning Mouth-Watering BBQ Smoked Ribs.
Add a Favourite Side like Corn Dogs, Roasted Corn, Poutines, Funnel Cakes even Beef Steak Paninis.
***FEATURED ACTIVITIES***
BBQ COOK-OFF + MIDWAY RIDES + LIVE MUSIC + WRESTLING + MARKETPLACE + PARASAILING TOURS + FIREWORKS SHOW + FAMILY FUN FOR ALL!
Saturday Night Rock
3PM – Bob Marley Tribute Performed by Lazomusic
6PM – Ninth Line
7PM – CCR & John Fogerty Tribute Performed by Green River Revival
945PM – Fireworks Show
10PM – Aerosmith, The Rolling Stones & The Doors Tributes Performed by Pop Cherry
Full Entertainment lineup visit www.innisfilribfest.com
– Admission if Free for 12 and under. 13 and over just pay $3.
– Wheelchair Accessible.
– Pets are not permitted. Service Dogs accepted with card.
– Smoking is not permitted.
– Free parking.
For more information visit our website www.innisfilribfest.com
Produced by Ontario Festival Group www.ontariofestivalgroup.com